How to Enjoy the Exhibition
Visit the three areas
in any order
You will find an entry button for each of the following three areas: LIFE, HISTORY, and ARTIST.
Enter whichever area you like, and enjoy the wonderful illustrations you discover there.
Explore the exhibition and
find your favorite illustrations
Swipe the screen on your smart device, or use your mouse's scroll wheel to move between rooms. If you find an illustration that you particularly like, you can tap or click on it to take a closer look.
* Some features are not available in some languages
Highlights
This exhibition consists of three areas,
and after moving through each one,
you can gain access to an additional area with even more Pokémon content to view.
See Pokémon in their natural habitat: grasslands, wilderness, mountainous terrain, forests, seas, rivers, the skies above, or even bustling cities. Take a look at where these Pokémon live and how they fit in with their environment.
To enter, you must agree to the Terms of Use and Privacy Policy.
A wide range of Pokémon cards have been released since the Pokémon TCG's debut in 1996.
This section lets you trace the path of the cards and their illustrations over time.
To enter, you must agree to the Terms of Use and Privacy Policy.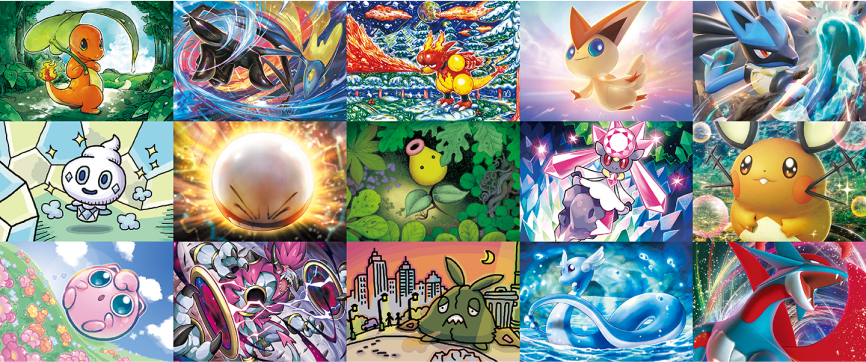 Pokémon card illustrations are constantly evolving over time to properly express the unique nature of the Pokémon, each with its own distinct personality. Enjoy the countless charms found among the various Pokémon through the diverse expressions created by each artist.
To enter, you must agree to the Terms of Use and Privacy Policy.
This area features Pokémon card illustrations created specifically for this exhibition by Wada Takumi, who works as an illustrator. There is also a special room where commentary from the card illustrators themselves can be viewed, a room devoted to various illustrations of Pikachu, and a room where the winning entries from the 2022 Pokémon Trading Card Game Illustration Contest can be found.
Visitor Access Map
Total visitors
Most popular area
Most viewed room
Learn more about the regions around the world where people are viewing the exhibition.
Simply tap or mouse over the region that you'd like to know more about. You can see which exhibition areas and rooms are popular in that region.
The map is updated hourly.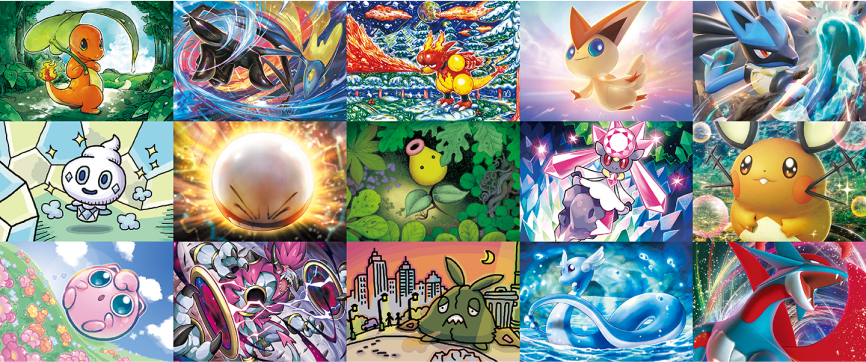 To enter, you must agree to the Terms of Use and Privacy Policy.
Event Overview
Event Overview
Exhibition Name
Pokémon TCG Online Illustration Exhibition
Exhibition Period
Wednesday, August 10, 2022 to Sunday, October 23, 2022
Admission Fee
Free (You are responsible for any internet access fees or data charges incurred while viewing the site.)
About the Online Illustration Exhibition
This online exhibition features various illustrations that can be enjoyed for free at any time during the exhibition period when viewed via a web browser on your smartphone, tablet, or PC.
Recommended devices: iPhone 8 / Google Pixel 3 or newer
About the Pokémon Trading Card Game
About the Pokémon Trading Card Game
The Pokémon TCG was Japan's first real trading card game, with cards featuring illustrations depicting various Pokémon, characters, items, and locations from the Pokémon video game series.
Since its release in 1996, the game has been translated into 13 languages and sold in 77 different regions, and is enjoyed by many people around the world, regardless of age or gender.
The Joy of Collecting
Because no two Pokémon are perfectly alike, even when they're the same species, there are multiple cards representing each individual Pokémon. The cards can feature different attacks, and some versions of the cards are rarer than others. Finding all of the different versions is a large part of the fun when collecting Pokémon cards.
The Joy of Battling
Players can use the cards they have collected to participate in Pokémon battles.
People from around the world enjoy battling with the cards not just because of the strategy involved when building their decks, but also because the unpredictable nature of drawing cards can often be the difference between victory and defeat.
Players do not only battle against friends and family; they can also enter local tournaments and even duke it out in worldwide competitions.
Learn more about
the Pokémon Trading Card Game
Pokémon TCG Online Illustration Exhibition Usage Guide
Viewing the Illustration Exhibition
Depending on the device you are using and your internet connection, the images and videos in the Illustration Exhibition may not display correctly.
We recommend using a device that meets our recommended specifications and features a stable internet connection, such as Wi-Fi.
Note: If you are on a SIM contract with limited data, contact your mobile network provider about the effect it may have on displaying the images included in this exhibition.
If you have any other questions, please send us an inquiry via email.
Using the Illustration Exhibition
You can enjoy this Illustration Exhibition with a web browser on your smartphone, tablet, or PC.
Entering and leaving an area
You can enter each area by tapping its Enter button on the Illustration Exhibition main page.
Tap or click on Menu in the upper-left corner of the screen to move to a different room within the area, or to leave the area and return to the main page.
Moving between areas
While in an area, you can move within it by swiping left or right on the screen, or by using your mouse's scroll wheel.
Tap or click on an illustration to take a closer look at it.
Sharing on social media
You can share on various SNS (LINE, Twitter, Facebook) by opening the window displayed at the bottom of the screen of the work you are viewing in close-up and pressing Share.
Editing your profile
After entering the exhibition, open the menu located in the upper-left corner.
Tap or click on the icon that you selected for your user profile when you first entered the exhibition.
Tap or click on your profile to edit your user icon and nickname.
Your nickname must be 12 characters or less and cannot include symbols or spaces.
Your profile information will be used when posting comments. You can change your profile settings as many times as you want.
Once you have finished editing your profile, press the Confirm button to accept the changes.
Changing your email address
If you would like to change your registered email address, access the Account Settings screen and follow the instructions below.
Tap or click on the Change button next to your email address.
Input your new email address.
Inquiries
Notes on Using the Illustration Exhibition
Notes on Using the Illustration Exhibition
All intellectual property rights and other property rights, including copyrights related to any tangible and intangible components (such as images of original Pokémon card illustrations, icons, brand logos, text, software programs, manuals, databases, etc.), that make up this Illustration Exhibition and its related pages belong to Anique Inc., Creatures Inc., GAME FREAK inc., Nintendo Co., Ltd., and/or their respective owners.
Some features are not available in some languages
The following acts are prohibited while visiting the Illustration Exhibition and any of its related pages.
The reproduction, copying, adaptation, processing, or creation of materially similar images to the illustrations included in the Illustration Exhibition
The reproduction or duplication of illustrations included in the Illustration Exhibition by taking a screenshot on the device being used to access the Illustration Exhibition, or through the use of any electronic device with camera functionality to capture an image of the screen of the user's device
In addition to the content listed above, you must first read, understand, and agree to the full text of the Pokémon TCG Online Illustration Exhibition Terms of Use before using the Illustration Exhibition.
The quality and transmission of the images and videos included within the Illustration Exhibition may be reduced or otherwise disrupted depending on the device you are using and the location from which you are accessing the site. We recommend using a device that meets our recommended specifications and features a stable internet connection, such as Wi-Fi.
This Illustration Exhibition is operated by Anique Inc. and has been commissioned by The Pokémon Company.
Inquiries